Many of us are observing that the world has been devastatingly enduring by the COVID-19 pandemic. All sectors of life have been dangerously affected. For most of the sector, organizations are undergoing the worst times and experiencing a time of a boost is web traffic & e-commerce.
During pandemic, your website probably is experiencing a wave in gaining traffic, and you need to know how to capitalize on this and make web design work impeccably for you.
TABLE OF CONTENTS
Web Designing as a Growth
Web designing is seeing substantial growth in the market through this pandemic time as the people is frequently locked at home. Various individuals are eyeing this as an outstanding opportunity to begin a new website or redesign an existent web appearance. People with present businesses are also viewing this as an opportunity to proceed with e-commerce, and modern shops are springing up continually as a means to expand income during this trying period.
No one knows how long this pandemic will last, and companies will likely need to conform to a different certainty formed throughout isolation and distancing in the near and foreseeable tomorrow. People are relying on e-commerce shops for numerous of their stores and assets while storefronts remain closed-door. These new conditions are leading to tremendous market demand for web designers, particularly those who specialize in e-commerce facilitation.
E-commerce Web Design
Online shopping is growing from a different norm. Ordering groceries and supplies are one thing, but now people are looking for online assistance and technologies for everything. Information & communication opportunities and networking capabilities allowed for schools and businesses such as Zoom meetings have taken off since the lockdowns have in place.
All of this expanded demand means an expanded requirement for web designers with a broad array of professions at their disposal. Designers with coding skills and cybersecurity experience will be in very high demand. Customer interfaces and association management is amazingly valuable, and online purchasing gateways rely largely on cybersecurity and customer service representatives.
Companies need to recognize the circumstances that are responsible for this increasing growth in demand for goods and services online and determine the relevance to what is required from skilled top web design companies.
People stock up in times of disaster. This development can lead to fulfilling deficiencies even when supply lines are working easily. It is just simply very difficult to keep up the population all trying to stock up at once. Hoarding and overstocking can become a severe issue, but despite people's fears of supply shortages, consumption rates have also increased quite a bit. Even in times of crisis, if it's there, it'll be implemented.  
Entirely, people do not typically deal well with owning and not using. Being stuck at home and having to achieve frequently more in life from home is going to be a game-changer for everything and everyone.
UI/UX Web Design Market
This new increment is not only surrounded by e-commerce web designers. UI/UX design will be possible also to see meaningful development. Even before the pandemic, the marketplace was changing. Under quarantine, many products and services have become essential, and many striving services have taken off.
This doesn't out-way the disruptive influence on our economy and way of life, but for many businesses, it can be a silver lining. That silver lining may reflect the brightest when it occurs to a skilled web design market. With a newly growing workplace that has been transitioning quickly from storefront to home office, new requirements for innovative UI/UX solutions have developed.
The description of acceptable and successful user experience has grown overnight, and web design will be infrequently high demand to serve the needs of this swiftly developing aspect.
The convenience of online shopping was ramping up before this pandemic. Earliest two-day shipping was once this unbelievable speed, but people were demanding faster and faster and seeming for more convenience than ever. Now today, these delivery services are widely backlogged and accused solid, and companies are having trouble keeping up with demand. Walmart's contact-less delivery service is currently scheduling a week in advance. Corporations offering online ordering for delivery are running into supply problems.
Delivery and other services are the current user activity of choice, and so much of it is reliant on well-functioning web development fundamentals. There is a new dawn for goods of all kinds that can promote some of the different conditions in this world of social distancing. Many products that address physical contact issues have seen a new life.
Social systems have also noticed a surge in user numbers in the past months as people are looking for alternatives to stay in touch within these new physical barriers. Before Coronavirus, social networks such as Facebook were starting to see a decline in growth rates as people were making a progress to restrict screen time and protect their mental health by combating the constant pull of social media interactions. Though now we are seeing a growth of 50% in Facebook use within countries undergoing the pandemic.
Increased traffic challenges new functionalities and potential is foretelling latest efforts into the social networking sector. The UX for social media platforms is astonishingly powerful, and this latest surge in users opens the door for innovations in UX design.
Media and Entertainment
Locked inside? What a precise time for content binging. Even at the opening of quarantine measures were executed, it was obvious to see an extensive emergence in media and entertainment consumption online. Web design impersonates an essential part in how online entertainment and media are delivered, and design roles associated with media performance and other streaming services are going to be encountering a much greater demand as well.
Another changing landscape in our world today in acknowledgement to many of these reforms is an advertisement. Various high response advertisement platforms such as professional sports, large events, and traditional entertainment sectors have experienced a meaningful drop in ROI. Marketers over the board are decreasing advertising expenses.
But publication is still a very critical part of all marketing, and the key to much of the business sector making it during these unstable times will be found in advertising innovation online and will require a web design company.
Predicting the Prospect of Things to Grow
Therein lies one of the greatest challenges. Predicting what could occur next. We just can't recognize, and this gives some severe challenges for what will be required as we move onward. But one thing is certain; whatever occurs in the future of our new presence and the changing surface of the world economy, the internet is going to play an extensive part. It is difficult to presume just what the impact of this pandemic would look like 20 years ago, opposed to today. The present state of the internet in the lives of the community is so vital to how we will overcome this very difficult time in human history.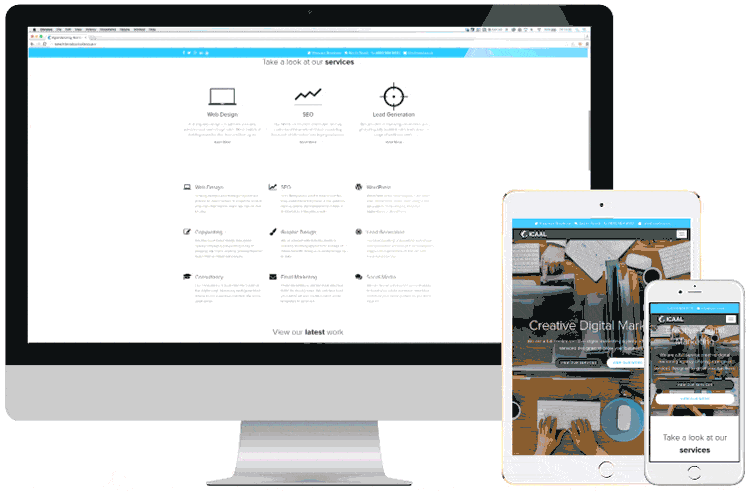 Whence things improve and the true extent of new requirements for web applications and online service plan will be determined by careful analysis of consumer behavior. This can be considerably challenging when the world has evolved so quickly. We simply do not have the data to make reliable predictions. This can be unsettling, but for the world of web design, this can be impressive too. We can't know precisely the right direction to move in, but we do know that reform and growth in web design will be fundamental. This provides a unique opportunity for exceptional value in analyzing new things and exploring variation. But much of this change will rely on responsible monitoring of statistics and information user habits and client needs.
In a Nutshell:
Conditions are changing very speedily, and our way of life is forced to emerge very quickly. The key to success in these unpredictable times will surely be found in innovation. Wherever innovation is required, it is certain to be seen in internet applications, and internet application required web design.    
PS: If you liked, then kindly share your kind reviews in the comments section below. To stay in touch further, do not miss any of our articles/blogs, then do subscribe to our newsletter, and check out our blog page.
PPS: Follow us on our Social media handles: Instagram, Medium, Facebook , LinkedIn , and Do check out our recent repositories at GitHub.